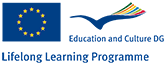 This project (503107-2009-DE-GMP) has been funded with support from the European Commission. This communication reflects the views only of the author, and the Commission cannot be held responsible for any use which may be made of the information contained therein.
University of Kassel

The University of Kassel, founded in 1971, is the newest university in the state of Hessen. At present, it has about 18,113 students. The number of staff is more than 2,120, including 327 professors, approximately 900 other academic staff, and about 1,100 technical and administrative staff.

A wide range of undergraduate and postgraduate study programmes is offered in the following fields of study:- Humanities and Social Sciences- Economics and Business- Natural Sciences- Engineering Sciences- Architecture, Urban Planning and Landscape Planning- International Agriculture and Environmental Protection- Fine Arts -Interdisciplinary research is a priority for the University of Kassel. This includes research cooperation and dialogue and collaborative development projects with institutions from all over the world.

The scientific part of VIP in relation to stock taking and research on informal learning and validation will be coordinated by Prof. Overwien The system design department of the University supports, due to the complexity of validating informal learning the development of a systemic VIP approach especially in terms of validation procedure, accreditation and software usability.
Address
Mönchebergstr. 19b
34125 Kassel
Germany